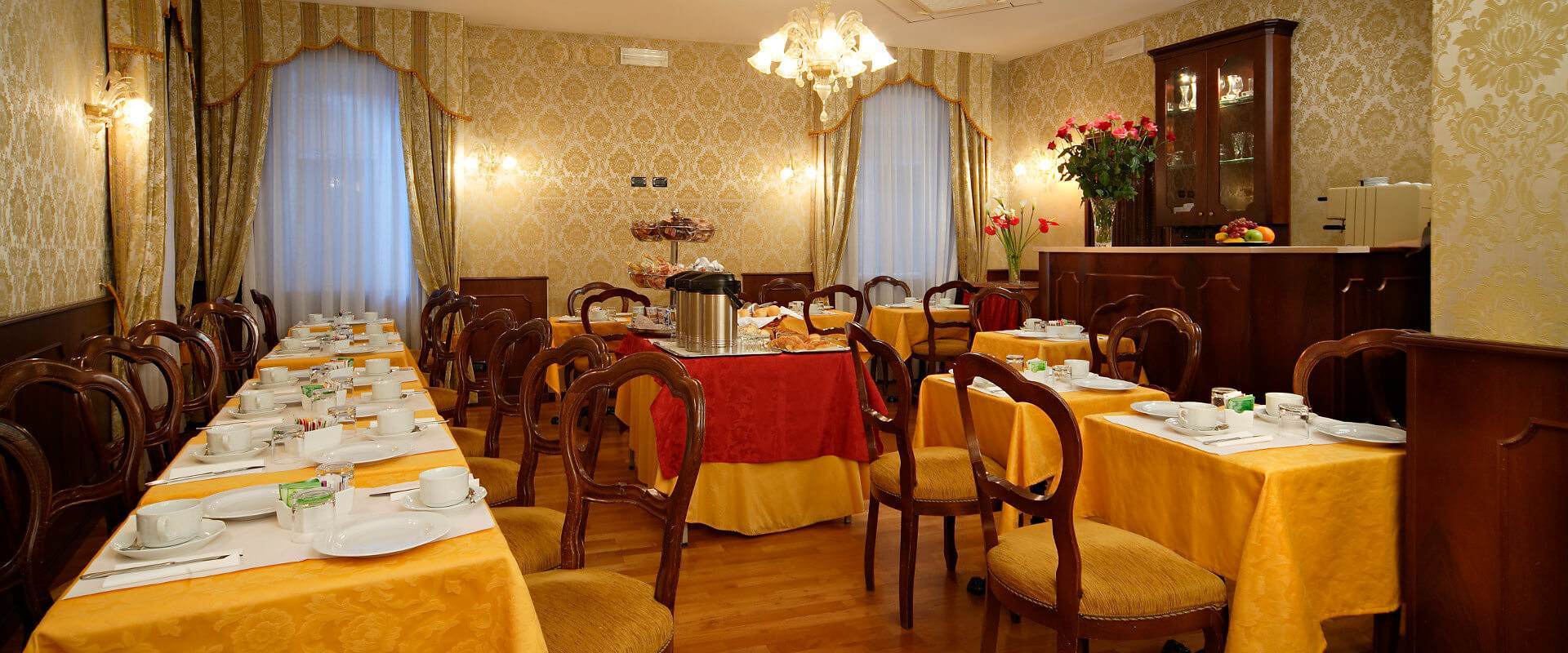 Description
Near the famous Teatro La Fenice, the Hotel Gorizia "A La Valigia" welcomes you in an exclusive environment in which is maintained the typical atmosphere of ancient Venice.
You will discover the privileges of a stay in the past in a magnificent breakfast room in full Venetian style or in salons that, with their furnishings and refined draperies, recall the time of the famous Casanova.
Surrounded by the attractions of Palazzo Monti, the Hotel Gorizia "A La Valigia" is an elegant 3-star hotel located in the historic center of Venice. just five minutes from Piazza San Marco and the Ponte di Rialto, is equipped to host disable people, with an elevator and bar.
The personnel of the reception desk is available 24 hrs. to suggest itineraries and guided tours along the plazas and streets of a city that will leave you enchanted.
The suitcase
It was the long-ago spring of 1947 when this object so common to any hotel in the world made an unusual entrance to the Hotel Gorizia. Battered, worn, abandoned at the door of a classic Venetian bàcaro and...used as a soccer ball! In this way, "la valigia" made its entry to the Calle dei Fabbri, kicked in by some artists who enjoyed themselves by "escorting it" to its final home. Viewed with surprise by those attending the symposium, it was almost immediately subjected to special treatment: each artist present decorated it with an original work.
In twenty-seven episodes, self-portraits, still lifes, landscapes, and objects that are today the value added of the suitcase, kept and beautifully exhibited at the Hotel Gorizia. Cherubini, Carena, Pomi, Novati, Sara and Seibezzi are only some of the names that left an important trace of their talents on the soft walls.
This charming episode was the premise for the birth of L'Ordine degli Amici della Valigia (The Order of the Friends of the Suitcase), a symbolic Last Supper of Venetian artists noted in art magazines around the world. Today, the suitcase is admired as an example of the contemporary Venetian painting, is the soul of our hotel. And the soul, it is well known, is priceless.
Services
Facilities for the disabled
Reception 24 hrs.
Breakfast
(in your room on request)
WiFi Free
Fax
Air conditioning
Tourist information
Children from 0-2 years free
Cradle on request
Facilities
Elevator
Reception
Hall
Bar
Booking